Presto-X
Pest Control Plan Details and Reviews for
Presto-X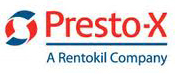 Inspection Charge:
Free
Service Charge:
$Not Available
Basic Termite Plan:
$Not Available
One time treatment:
$173
Web: prestox.com
Reviews
Cameron | 03/01/13, 12:34 am | Rate this review: Overall Rating

I worked for this company for 6 short months. The manager did noting but lie to his employees and to his customers.There service is not up to par comaired to other companys. I would suggest that if you need pest service to try a small locally owned company for best results. I wold not recommend working for this company if you are looing for employment.

Brian | 01/07/14, 5:33 pm | Rate this review:

I worked for this company in Nashville TN. The manager there painted a
Nice picture but I found out the hard way evthing he told me
During the interview about salary and how
they cared about there employees were lies
This manager in Nashville Tn is fake and I can
Not believe that he could be hired as a manager
Do not work for this company you will not have a home life and are
Expected to be on call for no pay

Jackson Paulette | 03/08/14, 10:19 pm | Rate this review:

Although, the company is very good at what they do. Their service manager tends to lie and exagerrate what they are capable of. He walks around acting like a god but looks more like a troll with an attitude. I had there service and it was good but the techs were being swapped around like dirty drawers and the prices kept going up. Although they are much better than Pestrite a local rip off artist, their services are extremely over priced.